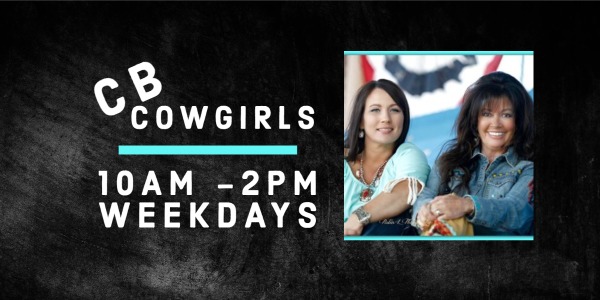 CB Cowgirls – Becky and Vicki  10:00am – 2:00pm, Weekdays
cbcowgirls@todayschristiancountry.com
The "CB Cowgirls" is derived from a deep belief of Becky and Vicki that we must connect the past to the current and future generations. A bridge must be built to fill the gap and hold on to what was good, right, and pure. There is wisdom in years and the ages that are slipping away, as one generation dies off and another is born. We have spent a decade capturing those stories and passions as well as the lessons of faith on radio. We want them to inspire and educate those who have lost touch or have not experienced the faith filled education written in each of our forefathers/mothers past. We all relate to one another in unspeakable ways, through joy, pain, friendships.
We have walked many paths but inevitably it's "Our Roots"  and our "Faith" that ground us. We personally, have not wavered, and have not given up and stayed humble when we succeed. We always are willing to look up and then beyond. A story or a picture is a reflection of what that history, and past has meant to us and those we interview. Our show captures the essence of our heritage of the Christensen Family and many others. We are united by the ups, downs, and in-betweens of this journey called "Life" and our faith in Christ. We hope you hear the heart captured through the voices of two generations of cowgirls.
It is because of our "Roots" that we are grounded by our "Faith" and by our "Heritage" that our Great Grandmother, Grandfather (Dad), and Great Uncle blazed before us. It is a deep appreciation of what God has done and is still doing.  It is our hope that our radio broadcast on Today's Christian Country Radio brings a glimpse of how Faith and Fellowship is still served up with a good meal the Cowboy way.  We want our listeners to keep coming back for more!
Keeping it Country
~ Becky & Vicki