Community Stuff – Dahlonega Georgia
PLACE YOUR EVENT ON THIS BOARD!!!
If your church, non-profit or service organization would like to be included on this information board, send your request to info@todayschristiancountry.com with the following information:
Name of the event:
Date and time of the event (include a start and end time if possible): 
Location (include name and address): 
Brief description: 
Contact name, phone number, and email (may this information be used in this posting?): 
Please copy and paste the email address if the link does not take you to an email page!
We reserve to approve/disapprove information we deem appropriate/inappropriate for our listening audience!!
Saturday morning Farmer's Market thru October 16
2021 Farmer's Market
The Dahlonega Farmers Market is a weekly event that brings local residents to the downtown business district. It promotes a sense of community and provides fresh, locally grown produce to customers, while offering agribusiness sales opportunities to growers from Lumpkin and nearby counties.
All items at the Market are locally grown and seasonal.  Locally grown plants, such as vegetable, garden, landscape, and house plants, seasonal fruits, plus jams, jellies, and baked goods containing locally grown ingredients.
The Market season runs every Saturday morning now through October 16th.
(706) 482-2707
Hancock Park, North Meaders Street & Warwick Street, Dahlonega, Georgia 30533
Fridays - Gainesville's traditional farmers market
Gainesville's traditional farmers market – on the Historic Downtown Square – is back for our 13th year!
The best Northeast Georgia local produce (over 100 heirloom varities as well as seasonal favorites), local honey, farm eggs, pasture-raised pork and beef, baked goods, prepared foods, boiled peanuts, hand-made crafts, and live music.
Join Us Each Friday through October 1, on Gainesville's Historic Downtown Square! 2:30 to 6:30. Support our local farmers and all our locally-owned shops, businesses, and restaurants.
Tuesdays - Its Time To Pray - (see times below)
It's Time To Pray!
"Prayer is the key to all that Jesus is willing to do. The day and hour demands that those who still know the mercy of Jesus Christ begin to plead for our nation. When prayer turns to a heartfelt cry for freedom and deliverance, God will hear and answer. I believe that God is willing to show His mercy to us once again, in spite of how far we have gotten away from truth as a society." - Pastor Carter Conlon
We invite you to join with ItsTimeToPray.org on Tuesdays from 7:00-8:30 PM EST (4:00-5:30 PST). You will be compelled to pray as we share the prayer requests coming in LIVE from all over the world.
Gospel Tracts Society free tracts
Publishing the Gospel of Jesus Christ for 95 years, the GOSPEL TRACT SOCIETY has been sharing the message of salvation and encouragement 'to all the world … to every creature … through the printed page,' with Gospel Tracts and Gospel comics for adults and children. The Christian based 
GOSPEL TRACT SOCIETY is founded on God's Holy Word.  With over 900 spirit- filled messages, you'll find the right 'seed' to plant in God's Harvest field. Click, write, or call and ask for a free sample pack.
Share the Gospel of Jesus with others.
Call 816-775-1997, visit www.gospeltractsociety.org to view their selection of literature or write to GTS, P.O.Box 1118, Independence MO 64051
Oct 7 - Dahlonega Woman's Club Meetings - Monthly
Dahlonega Woman's Club Meetings
The Dahlonega Woman's Club, a non-profit community organization of volunteers, meet at the historic Community House, 111 Park Street North, Dahlonega, the first Thursday of every month, except July.  Please join us at 5:30 pm for fellowship and refreshments before our program and meeting.  All women with a desire to help our wonderful community are welcome. 
Date and Time
Thursdays Oct 7, Nov 4, Dec 2, 2021
5:30 PM - 7:30 PM EST
Please meet at 5:30 pm.
Location
111 Park Street North, Dahlonega.  Across from Hancock Park.
For more information:
please call:  706-867-0120
Oct 1 - Friday Night Concert Series continues
FRIDAY NIGHT CONCERT SERIES - 
Oct 1, Nov 5, Dec 3, 2021
This free series held on the first Friday of each month through October is an excellent way to wind down from the week and set the tone for a great weekend.
The Music in the Park series showcases the diversity of local musicians monthly. Bring a picnic supper to the Hancock Park (located one block north of the Square) and spend some time with your family and friends.
Saturday Mornings Men's Breakfast - Bridge Church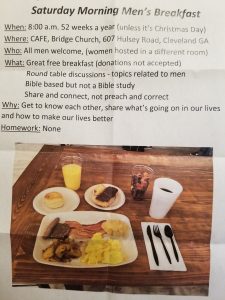 Thursdays - Dahlonega Network Leads Group weekly meetings
The purpose of the Dahlonega Network to assist you in getting good business referrals that will expand your business success. Dahlonega Network is dedicated to maximizing the use of your time and resources to get good business referrals.
Dahlonega Network Leads Group is composed of chamber members who are sales people and business owners located in, and/or doing business in, Lumpkin County. The Group provides a structured, positive, and professional "word-of-mouth" program that enables members to develop long-term, meaningful relationships with quality business professionals, gain a more in-depth knowledge of fellow member's businesses, exchange business referrals, and utilize these resources to grow and expand their respective businesses. Dahlonega Network is dedicated to maximizing member's time and available resources to secure reliable business referrals.
Date and Time
Weekly on Thursdays
8:00 AM - 9:00 AM
Location
Chamber of Commerce Conference Room
13 South Park Street
Dahlonega, GA 30533
Fees/Admission
Chamber Members Only; $50 per year
Contact Information
Robb Nichols, (706) 867-3766
Send Email
Find "Hidden Treasures" at Locally Crafted Market - Saturday mornings
Love Unique and Hand Crafted Items? Come see what is made LOCALLY! Shop to help moms and babies at local non-profit (NGPSC).
Art and gifts of all types. Unique Locally Crafted Gifts Handmade, Repurposed, & Refinished Items. Many Local Artists & Craftsmen. Within 1/2 mile of Dahlonega Square!
Open
Mondays, Tuesdays, & Wednesdays 11am - 5pm
Saturdays 10am- 5pm 
. Close parking and inside sitting area. Everything all under one roof - stay out of the weather!
Location
Locally Crafted Market 
387 North Grove Street, Suite E, Dahlonega, GA  30533
Fees/Admission
Free to shop. Classes and make and takes, etc. have fees. (Check event calendar on Locally Crafted Market website).
COVID-19 | Donate Blood Plasma and Help Save Lives
COVID-19 | Donate Blood Plasma and Help Save Lives |
If you have recovered from COVID-19, confirmed by a positive test, you're in a special position to help us fight the virus.
Your plasma has antibodies that may help others fight COVID. Please donate plasma now. You can literally help save lives. There are locations across the country that have safe ways for you to donate.
Find a site to donate your plasma at coronavirus.gov.
If you think or know you had COVID-19, you can be around others
• After 10 days since symptoms first appeared, and
• After 24 hours with no fever without fever-reducing medication, and
• After other symptoms have improved.
If you have tested positive for COVID-19 and you had no symptoms, you can be around others:
• 10 days after you got tested for COVID-19.
To learn more, visit coronavirus.gov.
Confidential help for Veterans and families
If you are a Veteran in crisis or concerned about one, connect with caring, qualified responders for confidential help. Many of them are Veterans themselves.
They are there anytime, day or night – 24/7
The National Suicide Hotline Designation Act, signed into law in 2020, authorized 988 as the new three-digit number for the National Suicide Prevention Lifeline. All telephone service providers in the U.S. must activate the number no later than July 2022; however, many providers will choose to implement the service sooner.
Once a Veteran's telephone service provider makes 988 available, Veterans can use this new option by dialing 988 and pressing 1 to contact the Veterans Crisis Line.