Community Stuff – Dahlonega Georgia
It's Time To Pray!
"Prayer is the key to all that Jesus is willing to do. The day and hour demands that those who still know the mercy of Jesus Christ begin to plead for our nation. When prayer turns to a heartfelt cry for freedom and deliverance, God will hear and answer. I believe that God is willing to show His mercy to us once again, in spite of how far we have gotten away from truth as a society." - Pastor Carter Conlon
We invite you to join with ItsTimeToPray.org on Tuesdays from 7:00-8:30 PM EST (4:00-5:30 PST). You will be compelled to pray as we share the prayer requests coming in LIVE from all over the world.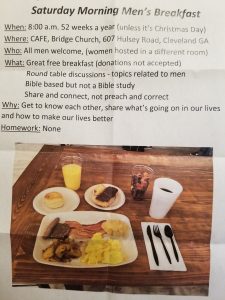 Location
Locally Crafted Market  387 North Grove Street, Suite E, Dahlonega, GA  30533
Fees/Admission
Free to shop. Classes and make and takes, etc. have fees. (Check event calendar on Locally Crafted Market website).
COVID-19 | Donate Blood Plasma and Help Save Lives |
If you have recovered from COVID-19, confirmed by a positive test, you're in a special position to help us fight the virus.
Your plasma has antibodies that may help others fight COVID. Please donate plasma now. You can literally help save lives. There are locations across the country that have safe ways for you to donate.
Find a site to donate your plasma at coronavirus.gov.
If you think or know you had COVID-19, you can be around others
• After 10 days since symptoms first appeared, and
• After 24 hours with no fever without fever-reducing medication, and
• After other symptoms have improved.
If you have tested positive for COVID-19 and you had no symptoms, you can be around others:
• 10 days after you got tested for COVID-19.
To learn more, visit coronavirus.gov.
Confidential help for Veterans and families
If you are a Veteran in crisis or concerned about one, connect with caring, qualified responders for confidential help. Many of them are Veterans themselves.
They are there anytime, day or night – 24/7
The National Suicide Hotline Designation Act, signed into law in 2020, authorized 988 as the new three-digit number for the National Suicide Prevention Lifeline. All telephone service providers in the U.S. must activate the number no later than July 2022; however, many providers will choose to implement the service sooner.
Once a Veteran's telephone service provider makes 988 available, Veterans can use this new option by dialing 988 and pressing 1 to contact the Veterans Crisis Line.